Welcome to Chimirri's Coupon Page

What's better than taking home Chimirri's tasty food & sweets? Taking it home for a lower price! Check back often, we will be putting up different coupons all the time!

Feel free to print out each coupon individually, or print out the whole page and bring it into our shoppe with you. Just present the coupon prior to your purchase so that we can correctly adjust your final price!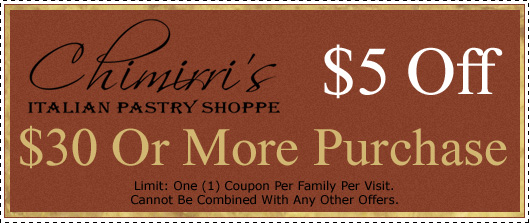 All Content Copyright © 2011 Chimirris Pastry Shop, LLC. & All Respectful Owners. All Rights Reserved.